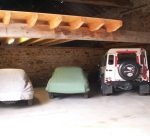 Our large barns have been converted and secured for Car Storage. We offer a secure car storage service, with regular checks, valeting and airport drop-offs and pick-ups, all at competitive rates. We live on site and our premises are protected 24/7 by Nexecur.
We are well situated, on the borders of the Dordogne and Limousin, in easy reach of Limoges airport and train station as well as Angouleme train station and Bergerac, Brive and Bordeaux airports. We can store your vehicle whilst you are away from France, and deliver it to you when you return to your nominated airport or train station.
Your vehicle can be cleaned, routinely turned over (to operating temperature) and moved to maintain the engine, peripherals and tyres. Your special car can be housed in a Carcoon for extra protection.
CAR STORAGE RATES
Standard, secure indoor car storage: 20€ HT/week.
Monthly check (check tyres, vehicle roll to prevent flat spots, start-up and run, battery check, depress brakes and clutch, engage gears): 20€ HT/month.
DELIVERY AND PICK UP
We can deliver your car to your place of arrival and pick it up on your departure. The cost for this service would be quoted per trip, based on your arrival/departure point. We are 35 minutes from Limoges airport, 2 hours from Bergerac and Brive airports and 2.5 hours from Bordeaux airport.
VALETING
We can also provide a valeting service to ensure that your car is fully cleaned at the start of the storage and again when you want to use it. Costs are as follows:
Wash and dry: 20€ HT
Wash, dry and wax: 30€ HT
Wire wheel clean: 15€ HT per wheel
Interior valet: 35€ HT
SERVICING AND MAINTENANCE WORK
We cannot guarantee against some degradation if your vehicle is left in storage for an extended period of time. Whilst you remain responsible for the mechanical operation of your vehicle in storage, we can organise servicing and maintenance work on your behalf, which would be carried out by a local garage as per your request. As we are acting as facilitators in this process, we take no responsibility for any work carried out by third parties on your behalf. We can also organise a controle technique and take your car for testing a our local CT station.
INSURANCE
Our costs include commercial, car storage insurance for us to store your car and provides cover against accidental damage whilst it is in our care. Your vehicle will need to retain at least 3rd party insurance to include the relevant International Motor Insurance Card (ie. green card), to allow you to drive your car in any member EU countries.
OTHER SERVICES
As well as car storage, we can assist you with other services, such as shipping your car to France and re-registering your car in France. Please contact us to discuss your requirements.
Contact us by telephone on 05 55 78 54 20 or complete the form on the Contact Us section of this website
Amazing service
I have a 1990 205 XRAD which I brought from a friend, it was her late husbands car and he had it from new. He always used your oil so I wanted to keep it the same, now I know why you have an amazing reputation, not only for the products but for your service!!!
I am now truly a customer for life!
JB
Excellent Company
Excellent company very attentive to the customer. Very satisfied with my product order. I will continue my orders with confidence.
Stef R
Always a pleasure to order from you
Bonjour Cara, c'est toujours un plaisir de commander chez vous, en particulier la vitesse à laquelle vous traitez mes commandes. Vous offrez un excellent service et il est important de vous le faire savoir.
Delighted with the service
I have been delighted with the service offered by Joffreny Loisirs whilst storing my treasured car.  The car was always ready when I needed to use it and always sparkling clean.  Cara, in particular, offered assistance with sorting out the paperwork and liaising with several third parties on my behalf.  I would certainly recommend the storage services without hesitation and will be using them again in the future when the need arises.
Frank Stimpson
France
Will recommend you to others
Hello Cara,
It was good to meet you and we are impressed with the way you do business and will recommend you to others.
E. Tum
UK
Prompt service
Just to let you know that the shipment of VSP arrived just fine, on time, and we are now safely home again (unfortunately!)
Thank you for your prompt service and for getting out of a mess.
CC
Prompt, friendly, professional and personal service
Veuillez trouver ci-joint mon chèque pour couvrir le coût des articles qui sont arrivés aujourd'hui. Je tiens à vous remercier pour votre service rapide, amical, professionnel et personnalisé lors de cette transaction. C'est tellement rare ces jours !
Thanks again
Veuillez trouver ci-joint notre chèque.
Merci encore pour l'excellent et rapide service.
Prompt attention
Merci beaucoup Cara pour votre attention rapide, comme toujours.
Speedy service
Un grand merci pour votre service rapide. J'espère que l'additif fonctionne aussi bien que votre service.
Great service
Juste pour vous informer que l'huile est arrivée vendredi et nous vous avons envoyé notre chèque hier.
Excellent service merci beaucoup, nous vous recontacterons pour la prochaine commande.
Would not hesitate to recommend
We left our car at Joffreny with very short notice due to an impending house move.  During this stressful time, Cara took care of everything for us and made sure that our car was well looked after.  She also helped us to get the car transported to our new home in the south of France.
We would not hesitate to recommend the services provided by Cara.
Julie Kin
UK
Bowled over by the car storage facility
I placed my car in storage with Cara at Joffreny in January 2012. To say that the year preceding this, my year in France, had been tumultuous would be something of an understatement.
I had thought that I would be starting a new life in Europe, having left the Middle East for a new job, however fate intervened and I found myself at short notice re-packing all of my belongings and having to head back to the Middle East again.
I'd bought a Mini Cooper, part of my "new start", and was broken hearted when I realised that I would have to leave her behind. Being a brand new car I needed somewhere reliable and to leave her with someone who understood the need to keep her running well and in good condition.
We drove six hours across France to leave the car with Cara near Limoges, and it was the best decision I'd made in a year of drama and bad decisions. From the moment we made contact with Cara, despite the short notice and us twice delaying our arrival with her because of the snow and relocation, she was always kind, understanding and polite.
When we finally arrived with Cara we were bowled over by the car storage facility she offers, within her own land and on her doorstep. I had no doubt "Betty" my mini would be in safe hands. It's gorgeous there and Cara even showed me where the car would "sleep".
In the end, plans to export the car to Dubai to be with me proved too expensive and I made the difficult decision to sell her.  Cara helped me out with the whole thing. She showed people the car, cleaned it inside and out for me and even posted off the documents. Quite honestly, I couldn't have done any of it without her.
Cara says it was all "part of the service", but in truth I know of very few establishments that would have gone to the lengths she did to help me out. She even placed advertisements in the local press for me and contacted the buyer in French for me when my language skills struggled.
If you're considering leaving your car with Cara – don't consider any more, just do it. It will be one of the best decisions that you make. She loves cars, understands them and her clients and offers a boutique service that should, quite honestly, cost far more than it does!!
Leah Oatway
Dubai
Thoroughly recommend the services
I put my BMW into storage with Joffreny Loisirs in March 2010 when we moved from France to Hong Kong. I subsequently decided to sell the car after a year in storage and the service provided by this company and by the owner, Cara Samways in particular, has been exceptional. The car has been well looked after and Cara has been extremely helpful in assisting with attempts to sell the car.
I can thoroughly recommend the services provided by Joffreny Loisirs.
James Smillie
Hong Kong