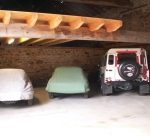 Our large barns have been converted and secured for Car Storage.  We offer a secure storage service, with regular checks, valeting and airport drop-offs and pick-ups, all at competitive rates.  We live on site and our premises are protected 24/7 by Nexecur.
With the ever increasing volume of traffic on the UK roads why not consider keeping your car with us here in Central France for the summer?  We are well placed for tours throughout France, and our location on the borders of the Dordogne and Limousin provides an excellent starting point for tours in the Dordogne, Massif Central or the Biscay Coastline (Bordeaux and La Rochelle, for example).  We can keep your motor in tip-top shape, deliver it to you when you arrive at the airport or train station, and put it back to bed when you leave.
Your vehicle can be cleaned, routinely turned over (to operating temperature) and moved to maintain the engine, peripherals and tyres.  Your special car can be housed in a Carcoon for extra protection.
STORAGE RATES
Standard, secure indoor storage:  18€ HT/week.
Monthly check (check tyres, vehicle roll to prevent flat spots, start-up and run, battery check, depress brakes and clutch, engage gears):  18€ HT/month.
DELIVERY AND PICK UP
We can deliver your car to your place of arrival and pick it up on your departure.  The cost for this service would be quoted per trip, based on your arrival/departure point.  We are 35 minutes from Limoges airport, 2 hours from Bergerac and Brive airports and 2.5 hours from Bordeaux airport.
VALETING
We can also provide a valeting service to ensure that your car is fully cleaned at the start of the storage and again when you want to use it.  Costs are as follows:
Wash and dry:  20€ HT
Wash, dry and wax:  30€ HT
Wire wheel clean:  15€ HT per wheel
Interior valet:  35€ HT
SERVICING AND MAINTENANCE WORK
We cannot guarantee against some degradation if your vehicle is left in storage for an extended period of time.  Whilst you remain responsible for the mechanical operation of your vehicle in storage, we can organise servicing and maintenance work on your behalf, which would be carried out by a local garage as per your request.  As we are acting as facilitators in this process, we take no responsibility for any work carried out by third parties on your behalf.  We can also organise CTs and take your car for testing a our local CT station.
INSURANCE
Our costs include commercial, storage insurance for us to store your car and provides cover against accidental damage.  Your vehicle will need to retain at least 3rd party insurance to include the International Motor Insurance Card (ie. green card), to allow you to drive your car in any member EU countries.  Contact us if you need help in obtaining a cost-effective quote as we can direct you to our insurers.
OTHER SERVICES
We can assist you with other services, such as shipping your car to France and re-registering your car in France.  Please contact us to discuss your requirements.
Contact us by telephone on 05 55 78 54 20 or complete the form on the Contact Us section of this website
[testimonials_grid theme="light_style" cols="2″ responsive="1″ equal_height_rows="1″ testimonials_per_page="10″ paginate="0″ count="10″ category="car-storage" orderby="date" order="ASC" show_title="1″ use_excerpt="1″ show_thumbs="1″ show_date="1″ show_other="1″ hide_view_more="0″ show_rating="stars"]