There are several different Classic Engine Oils products
The Classic Engine Oils are supplied directly from Millers Oils in the UK and have been specifically developed to enhance and protect the engines of desirable Vintage, Veteran and Classic vehicles.  The product links within the text below will take you directly to our online shop.
Millerol – non detergent monograde
The Millerol monograde range (SAE30, SAE40, SAE50) is suited to veteran and vintage cars manufactured up to the 1930s, when vehicles did not have any sophisticated form of filtration. The Millerol range is superior to original lubricants and, as then, does not contain dispersants or detergents which hold deposits in suspension. The Millerol range contains an additive package that reduces wear and prevents oxidation and rusting.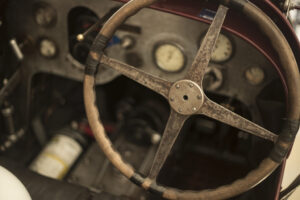 Pistoneeze – low detergent monograde
The Pistoneeze monograde range (SAE30, SAE40, SAE50) is suited to veteran and vintage vehicles where a monograde oil is required and the owner is confident that there is no dirt or debris collected in the crankcase. Also ideal for later vehicles built from the early 1930s to the early 1960s with superior oil filtration systems which were designed to run on monograde oils with some detergent and dispersant additives.
Multigrades
These multigrade oils were introduced in the early 1960s to solve the problem of using different grades in summer and winter:
 Running In oils
Classic Running-In Oil (SAE 30): for initial running-in of re-built engines.  Formulated for running-in on the road.  Can also be used for test-bed running-in.  Suitable for 500 miles after which it should be replaced with an appropriate Millers Classic engine oil.
CRO Competition Running-In Oil (10W40): for test bed running-in for up to 4 hours. Can also be used for light operational duties up to 500 miles.  Advanced formulation to meet the needs of the professional engine builder.
Other Engine Oils
CM2T (SAE 40): mineral 2-stroke oil for all pre-mix classic and vintage 2-stroke engines such as Scott, Villiers etc.  Also suitable for outboard engines not requiring an ashless oil.
CB40:  competition 4-stroke, caster engine oil for cars and motorcycles historically requiring a caster based oil.  Highest quality castor oil enhanced with anti-wear and anti-oxidant additives for enhanced performance.
Other Engine Products
Engine Flush:  this additive is to be used during an oil change and ensures the engine is clean before adding new oil.