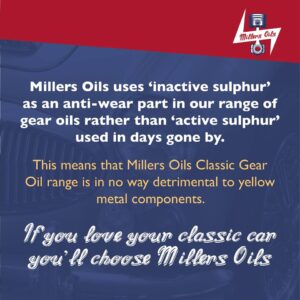 Classic – Gear & Transmission Oils:  all products within this range are supplied directly from Millers Oils in the UK.  The product links within the text below will take you directly to our online shop.  There are a range of products with different viscosities covering API GL1, API GL4 and API GL5, limited slip and automatic transmission fluid.  The special additives used in our transmission oils are not harmful to yellow metals.
Green Gear Oils, GL1 (SAE 90, SAE 140): for veteran and vintage transmissions. Mono grades containing anti-wear and anti-corrosion additives, but excluding the EP additives which can harm yellow metals. Designed for applications in older vehicles.
EP Gear Oils, GL4 (EP 80W90, EP 140): contains EP (extreme pressure) additives for bevel and lightly loaded hypoid gears. EP gear oils exceeding API GL4 for classic transmissions and axles requiring GL4 performance which is also suitable for brass and bronze components, ie. non stain.
Differential Oils, GL5 (SAE 90, 85W140): for highly loaded hypoid transmissions. Also suitable for transmissions with brass and bronze components.
LS 90, GL5 (SAE 90):  limited slip, hypoid gear oil consisting of high quality solvent refined base stocks with E.P. additives and friction modifiers.
Automatic Transmission Fluid (Millermatic ATF UN and Millermatic ATF Type G):  an automatic transmission and power steering fluid, mineral oil base.