2016 Nelson LUKES Sponsorship
We had a successful 2015 which saw Nelson LUKES win the French Formula 3 Classic Championship with his Martini Mk 39 (supported by K'Worx Racing).  Nelson and his team used several products from our Motorsport range (including NT engine and gearbox oils, racing brake fluid, greases etc.).  We are therefore pleased to continue our sponsorship of Nelson during 2016 where he is competing in the SEAT Leon Eurocup, managed by ICSport.  This Cup will see races in Portugal, UK, France, Italy, Austria, Germany and Spain.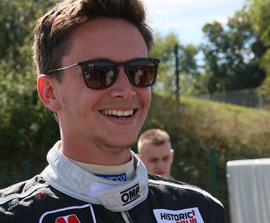 Nelson has been racing since the age of 10.  His experience in racing includes karts to single-seaters, prototypes, touring cars and rally cars.  He also gained some experience 'behind the scenes' as a mechanic, junior engineer in the Motorsport industry to being an R&D engineer in the solar power industry.  Despite his young age, Nelson has developed an approach in racing that compliments both his driving and engineer career.