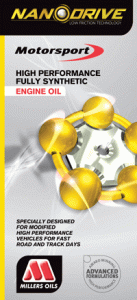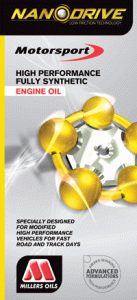 Our latest Motorsport – Nanodrive low friction engine oils have been designed to offer racers, engine builders and team managers a whole range of valuable benefits.
lower friction means less power loss – meaning more power to the wheels and potentially more speed
more durable engine due to reduced wear
reduced frequency of engine builds
reduced costs
The CFS NT range was launched at Autosport 2012, and has since become popular across the world with discerning drivers and engine builders. The CFS NT+ oils are our latest development, using the our upgraded formulation giving further reduction in friction and wear over our previous award winning NT range.
So how does Nanodrive work?
In an engine it is estimated that 15% to 20% of the energy in the fuel is lost through internal friction.
Friction is caused by the roughness of surfaces moving against each other. Friction causes wear and uses valuable energy through mechanical losses turning the engine over and in the generation of heat.
Cutting friction within the engine will reduce wear on engine parts and the heat generated, as well as giving drivers more power at the wheels. This is done using clever nanoparticles which act like millions of ball bearings, together with ingredients that smooth out the surface roughness of the metal engine parts.
Tested against a competitors oil of the same viscosity, we recorded 33% lower friction at operating temperatures of 110 Deg C.
That's not all
Low friction is just part of the story. These new oils are designed to maintain good lubricant film integrity, essential to protect the engine components.
The CFS NT engine oils are the first in a range of Millers Oils products that will use the depth of knowledge of lubricant technology to design products that lower friction, release power at the same time maintaining excellent engine protection.
This range of engine oils is available in several different viscosities: (CFS 0w20 NT, CFS 0w30 NT, CFS 5w40 NT, CFS 10w50 NT, CFS 10w60 NT).
Award Winning Nanodrive Gear Oils
Launched in 2009, our unique Nanotechnology transmission oils scooped the prestigious "Most Innovative New Product" award, ahead of motorsport legends such as McLaren and Williams at the 2009 World Motorsport Symposium. The NT transmission oils have had proven success in many high profile motorsport series, including the British Touring Car Championship, Hong Kong Touring Cars and in Rallying at all levels from WRC, JWRC, British Rally Championship and other national championships.
Gear oils are available as follows: CRX 75w90 NT, CRX LS 75w90 NT, CRX 75w140 NT, CRX LS 75w140 NT.
View the Nanodrive brochure for full details of the above products. The product links above will take you directly to our online shop.
Call us on 05 55 78 54 20 or complete the form on the Contact Us section of this website to discuss your requirements.