2019 Pau Grand Prix FFSA GT4
The 2019 Pau Grand Prix FFSA GT4 weekend started well with good qualifications by both K'Worx Racing teams and great grid positions, but the first race was at night and turned out to be very wet. Some poor tyre choices were made and the #22 (Valentin Simonet and Pascal Huteau) and #777 (Shahan Sarkissian and Jihad Abejouade) cars finished in 7th and 12th respectively in the Am category. We hoped for better luck in the second race.
K'Worx continue to use our Nanodrive engine and transmission oils throughout the GT4 events.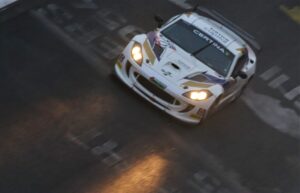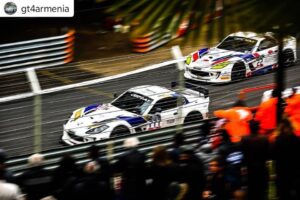 The number one drivers had great grid positions with the #22 car on pole position in Am, and the #77 in the row behind. The early part of the race saw some great action with the K'worx Racing cars leading the charge. Unfortunately, Pascal Huteau had a problem on the final straight and missed the first corner, hitting the barrier which resulted in him needing to be craned off the circuit. Race over. Meanwhile Shahan Sarkissian stormed into the lead in the Am class (8th overall) and held it for some time, dropping to 14th overall but maintaining 1st in Am for one lap after the driver handover! Jihad Abejouade dropped to 2nd but held his 2nd place for 7 laps before dropping to 3rd . . . . . but then he had to do a drive-through stop-and-go penalty, which lost him 6 places. This was such bad luck but he finished in a creditable 8th in class. What was his penalty for? Crossing the white line on the pit lane exit! He won't do that again, but it bodes well for future podiums. It is, after all, only Jihad's second race ever in GT4!
Here's a little snippet of some of the racing we experienced during the weekend.