Martin Prokop in the 2013 Rally Mexico with the Jipocar Czech National Team
Martin Prokop in the 2013 Rally Mexico with the Jipocar Czech National Team
The crew of Jipocar Czech National Team, Martin Prokop and Michal Ernst with Ford Fiesta RS WRC finished the Rally Mexico on the 9th position of the overall classification and has scored another valuable points to the overall classification where Martin is actually 8th in the FIA Drivers' Championship Standings.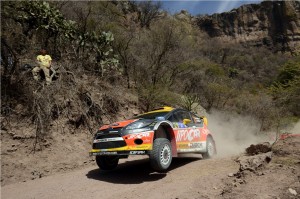 After two seventh places in Monte Carlo and Sweden, Czech team departed to Mexico with the vision of collecting another good amount of points, but the competition itself and the final result ended up a bit behind their expectations.
Martin Prokop comments: "First two days of the rally were not the best for us. We made some mistakes in qualification as we wanted to save our tyres as much as possible. That resulted into second position on the track what is not ideal for the gravel events. It took us quite long to find a good rhythm and to understand how the tyres are working on the gravel this year and also my co-driver suffered because of high altitude. Both those issues were solved during Saturday afternoon and Sunday and we were able to race and compete properly. I know we should have finished few places up the chart. Guerra and Block we should left behind us and fight for positions with Nasser and Atkinson. I don´t want to make excuses, now is simply time to work on."
Manager Quirin Müller adds: "Looking at the results is not very flattering, for somebody it may seem that we were there just to finish somehow in Mexico, but the rally was accompanied by medical complications and a recipe how to work with the tyres we have found a bit too late. However we are keeping our heads up. In all of the three events so far we have picked valuable points and there is still a vast majority of competitions ahead of us. Martin is eighth in the overall standings and I believe that also in the team's standings we will not get lost, while we go with just one car and driver. The car is back from Mexico now and we are immediately starting to prepare it before Portugal."
Next race of the WRC series is Vodafone Rally de Portugal, which will be held from 11th to 14th April.
For details of our Motorsport and Nanodrive products please see our online shop to view all the range.