Kawasaki Intermoto Team into 2nd race of Supersport World Championship in Aragon, April 2013
Intermoto Ponyexpres Kawasaki
Intermoto Ponyexpres Kawasaki rider Luca Scassa took his Kawasaki Ninja ZX-6R, using Millers CFS 5w40 NT (now Millers CFS 5w50 NT+), to seventh place on the grid after final qualifying at the Motorland Aragon circuit today, putting himself in a good position to take on the 18-lap race on Sunday.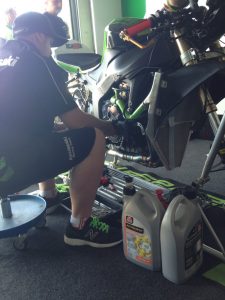 His regular team-mate David Salom was unable to make his home race as he is suffering from hand injures after a recent training crash but his place was filled by talented teenage French rider, Florian Marino. He worked well in the team in practice and qualifying taking 15th grid spot in a field of 35 riders.
After a recent test at Motorland and now the sessions of practice and qualifying on race weekend Scassa is confident that, with a good start, he has learned enough about his bike to take it to the other riders on raceday.
For Marino, who is an experienced WSS rider in his own right despite being only 19 years old and being off a racing machine for some time, a good start on raceday may deliver more to him than his 15th place on the grid. He had not ridden a race bike for sixth months before getting the call on Tuesday evening to join with Intermoto Ponyexpres Kawasaki for this round.
Luca Scassa:
"I think our sessions were pretty good but we did not get a chance to make a fast lap with the help of the slipstream, which is important here. We did a mid 2'02 lap time so if we can keep near that rhythm on Sunday that will be good. If the top two riders do not get away too early we will hopefully be fighting for the top positions. If not, we can still fight for the podium. I am happy on the bike and comfortable and we made a big step together as a team after Australia. We had only two day of testing before that but now we have had a test here recently, and some more track time in practice, it is all getting better and heading in a good direction."
Florian Marino:
"I have not been on a racing bike for six months before first practice on Friday. All the guys on the grid have been racing or testing but we are learning more things session by session. I am 15th and the lap times are quite close. Now, I am looking for a good start and to be in there and show I can have my place in this paddock. I am already happy to be here and thanks to Josef and all the Intermoto Ponyexpres Kawasaki team. A good result on Sunday would be great and I am building my rhythm all the time. Andrew Pitt is a good guy and he gives me good advice in the garage. I will do all I can to make a good result."
To view our full range of high performance Nanodrive oils, visit our Motorsport page and our Nanodrive oils.