I have just rebuilt my engine, how do I run it in?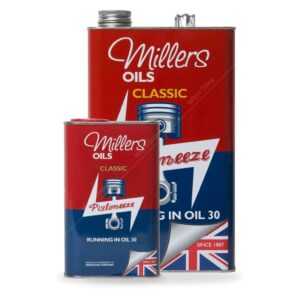 Millers make a special Classic Running In Oil, a mineral, SAE 30 oil, which should be used for the first 500 miles. After this, you should change the oil filter and replace the running in oil with the engine oil of your choice.
To view our full range of Classic Engine Oils, please visit our online shop and for further useful info please see our FAQs Classic page.
Millers also make a competition running in oil, CRO 10W40, which can be used for up to 5 hours for test bed running-in.  May also be used for light operational duties up to 500 miles/800kms on the road.  Click on this link, Motorsport Engine oils, for details of other engine oils for purchase from our online shop, or for further info please see our FAQs Motorsport page.