Top Ten Finish for Barracuda Racing at IndyCar Season Opener, 24th March 2013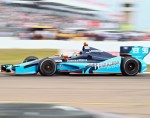 St. Petersburg, FL – March 24, 2013 – Alex Tagliani drove a solid race on the streets of St. Petersburg to start the season with a tenth place finish on Sunday afternoon.
Starting from P17 on the grid, the Barracuda Racing crew made a strategic pit stop early in the race and switched to black tires. Tagliani was able to move up through the field, running P13 when they made the second pit stop and remained on blacks.
An ill-timed yellow flag came out just as the No. 98 car was leaving the pits, pushing Barracuda Racing back to P19.
Several unusual track incidents allowed Tagliani to advance a few spots, running as high as P9 at one point, but a solid final stint on alternate red tires landed him the tenth place finish when the checkered flag came out.
"It was good that we made the top ten today in the Barracuda Racing car because we struggled a bit this weekend," said Tagliani. "We were so strong in qualifying last year and now we're just getting used to the new tires out there so we'll see how we need to react to that.
"I know that with Todd [Malloy] and the group of guys we have, we'll find it. The team did a great job and Bryan is happy. Everybody believes that once we find that pace, we're going to be up front. This is a season where we can be very competitive and there's no reason why we can't fight for the lead."
The tenth place finish is a good start towards the team's goal of finishing the season in the top ten championship point standings.
In two weeks, the IZOD IndyCar Series travels to Barber Motorsports Park for the Honda Indy Grand Prix of Alabama on Sunday, April 7 at 3 p.m. CST. The race will be broadcast live on NBC Sports Network in the United States, and SportsNet and TVA Sports for fans in Canada.
About Bryan Herta Autosport
Founded by veteran driver Bryan Herta, and noted race engineer and team manager Steve Newey, Bryan Herta Autosport (BHA) has been a race-winning team in Firestone Indy Lights competition since 2009 and won the 2011 Indianapolis 500 with driver Dan Wheldon in only its second IZOD IndyCar Series start. BHA currently fields entries in the IndyCar Series and Firestone Indy Lights with Curb – Agajanian. Since 2012, BHA has partnered with Bowen and Bowers Motorsports, Inc. (BBM). Based in Toronto, Ontario, BBM is the coming together of leading sports and entertainment property development professionals, Chris Bowers and David Bowen, along with the financial management experience of Trapeze Asset Management Inc. For more information, visit www.bryanhertaautosport.com.
For details of Millers Oils motorsport products, including the products used by Bryan Herta Autosport, please visit our online shop.